Reconnect on Route 63
Posted on Sun May 17, 2020.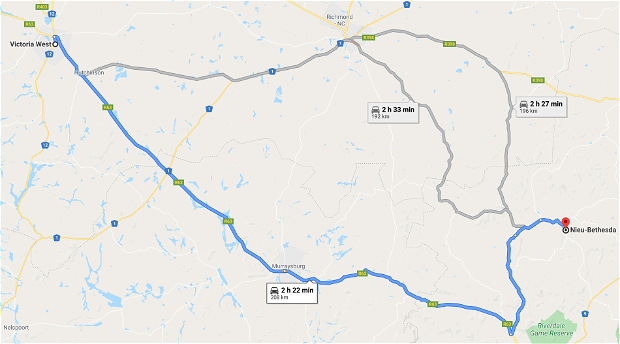 Leave the national roads and concrete jungles, and get stuck behind the spectacular sights of the undiscovered Route 63. Whether you're looking to reconnect with family and friends at Langhuis, Graaff Reinet or stay in the Sneeuberg Nature Reserve, a road trip along the R63 promises the back-to-basics escape you crave. It intersects the major roads of the N12, N1 and N9 and is a welcomed reprieve from the monotonous straights of the Karoo.
Source: SA Country Life (Borralho, 2017)
"I Spy".
Traverse expansive lands and enchanting towns stuck in the simplicity of time warps, and reset your mind to focus on what's important in life. Swap those road-trip 'staples' like Wimpy milkshakes, with an indulgent melkskommel lovingly prepared by the tannies who manage family-run coffee shops. With little to no signal, your kids will have to communicate - verbally - and revert to the classic in-car entertainment synonymous with your own childhood. Although, we'd recommend steering clear of car cricket as it's more of a test than a 20/20. The 'I Spy Route 63 Edition' is inspired by the rich birdlife, abundant wildlife, and flora on either sides of the road, and will keep you laughing, guessing and probably Googling to identify different species. 
Source: SA Country Life (Borralho, 2017)
Victoria West.
If you're joining the R63 from the N12, start the round of 'I Spy' at Victoria West. This quaint town is famous for its historic airport, used as a refueling stop for SAA on routes from Cape Town to destinations in the north, right up until the 1970s. We'd suggest continuing with the refueling tradition at the local petrol station, before moving onto the next town. Also be sure to withdraw money at one of Standard Bank's first ever branches, founded in 1862. Drive past the Apollo Theatre in Church Street, and behold one of the last surviving Art Deco Theatre's in South Africa.
Source: Apollo Theatre: Experience Northern Cape (Kennedy, 2019)
Continue the game of "I Spy" as you enter the outskirts of town near to the Victoria West Dam, where a number of antelope, endemic Karoo wildlife and birdlife can be seen. If you're tempted to take a dip, appreciate the fact that it's not 1921, when the strict dress code stipulated you wore a costume "sufficient to cover the body decently from shoulder to halfway between the hip and knee". 
Source: https://www.karoo-southafrica.com/
Murraysburg.
Your R63 journey will then take you over the N1, and more CA and GP number plates may join in your drive towards Murraysburg. Eloquently put by the local tourism page, "Murraysburg is a town that time has almost passed by, with someone describing its special appeal as being more about what it is not, than what it is."
Framed by the breathtaking Sneeuberg mountains on one side and the Buffalo River on the other, Murraysburg is famous for its high-quality mohair, produced from the resident angora goats.
Source: Source: René Theron from https://murraysburg.co.za/photo-gallery/
Like many parts of the Karoo, this region is world-renowned for its abundant fossils, indicating that life in these seemingly inhospitable and harsh environments has existed for billions of years. The area is also rich in rock paintings and artefacts left by the original people of this land, the San.
Source: The Great Karoo https://www.thegreatkaroo.com/listings/activities/western_cape/great_karoo/murraysburg
Graaff-Reinet.
After stopping in Murraysburg, wind your way through the enchanting hills and shaded valleys of the Karoo, with distant views to the south offering the opportunity for a family competition of who can be the first to catch a glimpse of the 1909-metre high mountain of Die Duiwel (Devil) or the 2278-metre high Toorberg (Bewitched) Mountain. The winner can claim their prize in Graaff-Reinet which is fast becoming the South Africa's 'it' town, with plenty to see, do and eat. It's also where you can stay in our Langhuis, one of the many surviving green-shuttered, whitewashed houses that give Graaff-Reinet its homogenous character. 
Nieu-Bethesda.
From Graaff-Reinet, Sneeuberg Nature Reserve is an hour's drive along the N9, but if you'd like to continue reconnecting with nature, take a detour off the N9 and follow the R61 to Nieu-Bethesda, a nature-lovers paradise. In keeping with its distinctive slow pace of life, this town has no bank or credit card facilities, and no petrol pump available, truly embodying the idea of watching life pass by against the backdrop of the Sneeuberg mountains.
Source: https://www.karoo-southafrica.com/
Some see Sneeuberg Nature Reserve as their final destination, yet we see the R63 journey as part of the destination, and while time may have forgotten many of these towns, we know that you won't.