Charlotte Daneel
Charlotte Daneel passed away on January 25th, 2019. When I first met Charlotte about 20 years ago I had just become editor of Cape Town-based Condé Nast House & Garden magazine. It was our very first shoot and Charlotte and her shop in Franschhoek, La Grange, were to be its subjects. I'd heard of her and was in awe of what I'd heard. I was also green and inexperienced and nervous about the day ahead.
If Charlotte realised any of this she didn't say anything. On the contrary, I remember being struck by her enthusiasm and by the amount of goodwill she put in to ensure everything was just right. Of course, 'just right' is a relative term. It was 'right' according to Charlotte: the 'right' sort of leaves for the vases, the 'right' flowers, the 'right' juxtaposition of objects, the 'right' table setting and so on. There was a steely determination to do it her way, her advice delivered en passant, in a conversation, sweetly and generously. She pulled up one of those large cane armchairs she would become famous for, settled in it, lit one of her cigarillos and from the side offered suggestions and advice, leading quietly but authoritatively in a tone of voice that, although friendly and sympathetic, was to be obeyed. She commanded huge respect. From that moment I never looked back.
Charlotte became my go-to person for critiques. From that day we became firm friends. I'd come over to the La Fromagerie at La Grange and we'd chat over wine and she'd share all kinds of information. I went to Antwerp with her to visit shops and studios she thought worthwhile. She introduced me to a famous decorator who lived in a castle. We went to Paris to her favourite restaurants and to Maison et Objets, the décor show, to see what the rest of the world was doing and all the time I got to see the world in which I had started working through Charlotte's eyes.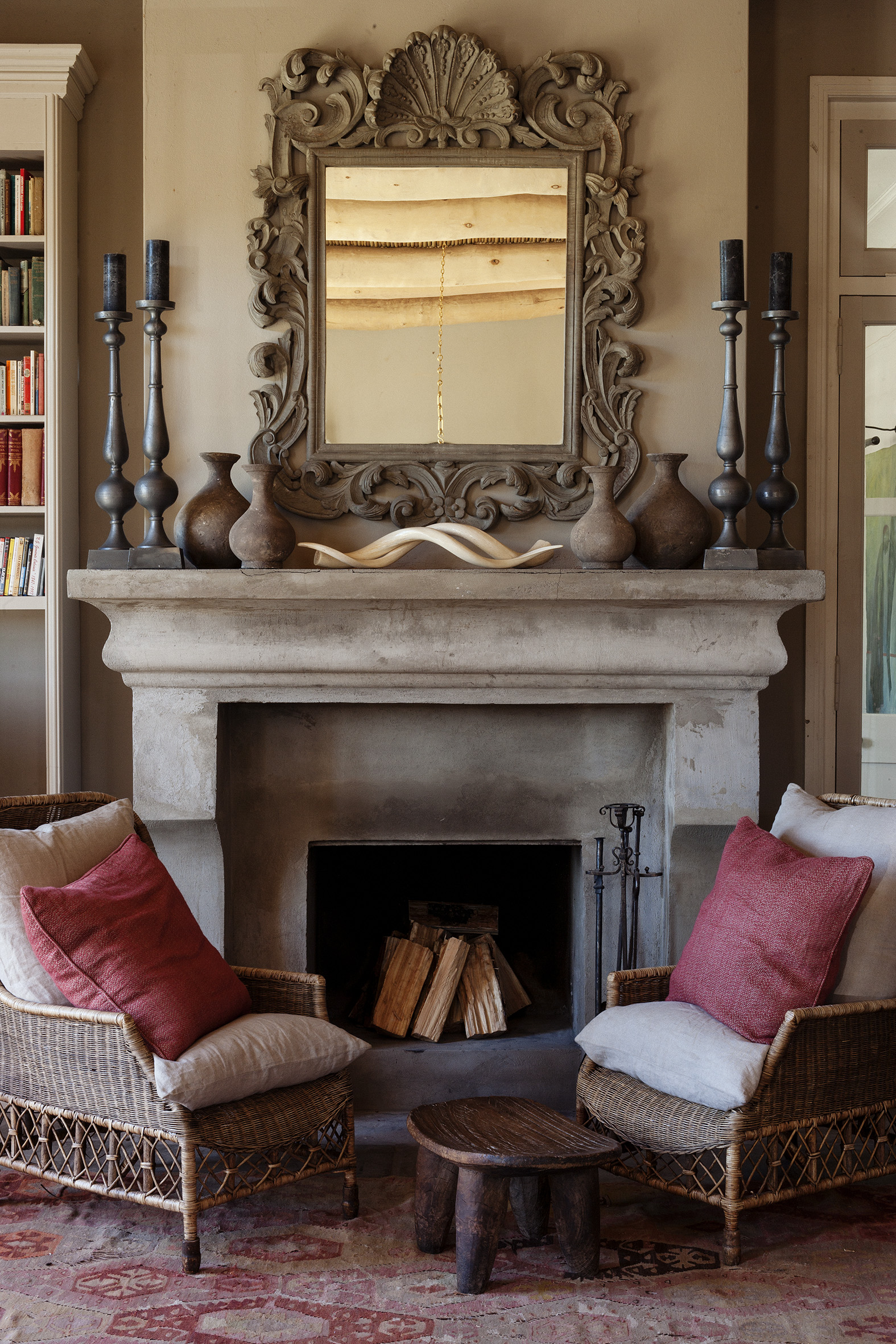 When I started this portion of my professional life I really knew nothing about scale and proportion or about stylish living beyond a few things picked up studying for a degree in architecture at a fancy British university, and my monthly trips to Italy to study the Renaissance masters. But Charlotte became my mentor. She fashioned my taste and opened my eyes to a world I knew nothing about. She was a staunch supporter of my magazine; indeed, together La Grange and Condé Nast founded a décor show in Johannesburg called Rooms on View at a time when decorating in South Africa was a fledgling business. Charlotte launched herself into it, again leading by example. That the décor world in South Africa began to flourish in the wake of that show is one of her greatest legacies.
I once interviewed Charlotte for a book I was writing about South African decorators. This is what she said to me:
'When I came back to South Africa from Holland, I was determined to make my work instantly recognisable as South African. I wanted to vindicate our past by incorporating Africa into what I was doing. But I wanted a look that was also connected to the rest of the world. I was one of the first who created something that didn't say 'safari' or 'colonial'. It was one of the first appearances of an Afro-European blend and it worked. What I did very successfully was to put Kuba cloth cushions on an old riempie rusbank. It looked sensational. It's a look that people exported back to Europe.' Again, Charlotte the leader.
How did she always get it right? Charlotte told me that South Africans live in a place that's very 'awake' spiritually. It affects some people more than others, but in Charlotte's case, and in particular with the work she did on her various houses in the Karoo, it's allowed her to create places that move people. And this is what sets her apart from her peers. Their warmth comes from the heart and was expressed through commanding textures, and pleasing, gentle colours and comfortable environments. You want to be there, knowing you will have good food and wine in rooms that are warm and appealing and have soul.
'My passion comes from an emotive response to things. And it's fed by the energy that comes from living in South Africa. But you have to be grounded if you want to survive here. There are places here that have a vibration that's healing. I think many of us are very aware of that. If you're connected to it, you can create a place that's in sync with your surroundings, that embraces everybody coming into it and where you feel inspired, where you feel at home. And if you're disconnected, your spaces will be flat and uninspiring.' Those who have a connection to that power are the ones whose work is relevant to the context of where we live and that says the most about their creator. There's no doubt that Charlotte's work has that. She was finely in tune with who she was and where she came from. This is the reason that Gordonville, for example, her property near the Sneeuberg in the Great Karoo, is uniquely inviting. She created something extraordinary there.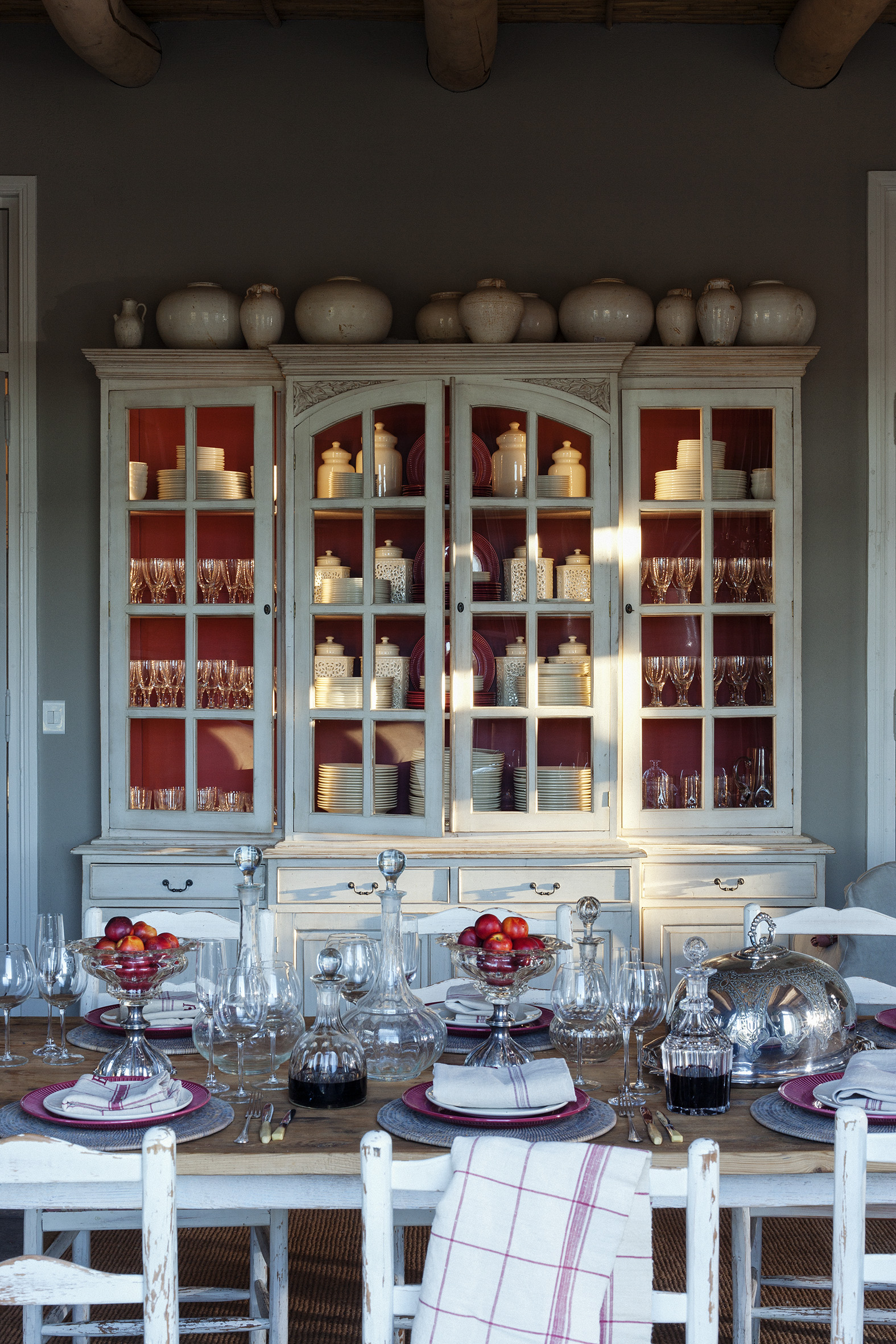 Charlotte's grand projet was Gordonville. It makes a whacking great statement on the power of scale, texture and colour; it's intuitively, and luxuriously, in sync with its location. Full of what she always called 'beautiful texture' and ripe colours, it's not one of those places that says, 'Admire me'. Instead, it embraces you. 'That's absolutely what I aspire to', she once said to me. 'I aspire to create spaces where people can find a place to sit, read a book and feel safe.'
And that's why her legacy in the Great Karoo, at Gordonville, Kliphuis, Poplars and Langhuis is so enriching. Charlotte had a thrilling, glamorous life in other parts of the world, but in the end she was utterly connected to her roots. Anybody who knew her, and who has had the chance to stay in one of her properties, can't but be moved by this. I will miss her very much. 
Paul Duncan

Photo Credits: Gordonville Manor by Adriaan van Oosthuizen. Paul Duncan and Charlotte Daneel by David Ross.